Serving San Diego and La Mesa — The Aesthetic Plastic Surgery Center
Located in La Mesa, convenient to all of San Diego, the Aesthetic Plastic Surgery Center provides patients with outstanding service and care. Dr. Ervin Wheeler's extensive training, experience, and impressive credentials provide the reassurance that the plastic surgery procedures he performs will have very satisfying results. To ensure that every aspect of his La Mesa plastic surgery practice meets the highest standards for safe and effective cosmetic surgery, Dr. Wheeler had his facility completely reconstructed in 1998. The facility has received full accreditation from the American Association of Ambulatory Surgical Facilities, and has been praised as one of the best in all Southern California.
Our Staff Welcomes You
Dr. Wheeler's skilled and loyal staff has worked at his La Mesa plastic surgery office for many years. Each member of his staff strives to provide a level of service that exceeds your expectations. When you arrive at our office for an appointment, you will be warmly welcomed. A staff member will see that you are comfortable and will assist you with any requests that you have. During the time you spend at our office, each member of our staff will make every effort to give you the most comfortable plastic surgery experience possible. Receptionist Carrie Pernicano will greet you warmly and provide your initial introduction to the Aesthetic Plastic Surgery Center. Jan Hartley, our office manager, and Swan Hokstad, our patient coordinator and surgery scheduling manager, will make sure that your experience at our practice is enjoyable, satisfying, and trouble-free. Our surgical team of highly trained professionals includes Sandy Thurston, RN/OR supervisor; Lee-An Atkinson, RN; Judy Baldridge, ORT; and Laura Serrano, ORT. Our anesthesia specialists are Heide Dreger, CRNA, and Bruce Crabtree, M.D. We encourage you to make an appointment today to experience why our staff takes such great pride in offering exceptional service to San Diego residents at the Aesthetic Plastic Surgery Center.
Lee-An Atkinson & Jeanne Dean — Our Skin Care Specialists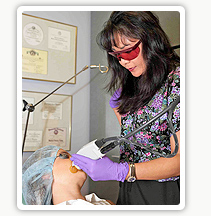 Lee-An Atkinson, R.N., & Jeanne Dean, R.N. coordinate the skin care facility at our La Mesa plastic surgery office. Accomplished skin care professionals, they work with our surgical and non-surgical patients to provide the most effective and appropriate skin care solutions from our full line of skin care products. In private consultation, Lee-An and Jeanne will assess your skin care needs and recommend practices and products to nourish your skin and keep it healthy and beautiful.
Our Plastic Surgery Procedures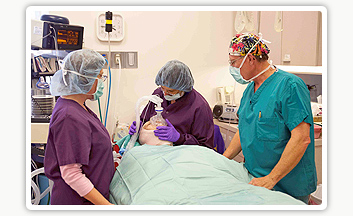 Serving all San Diego County, the Aesthetic Plastic Surgery Center offers a full complement of procedures, including facial plastic surgery, breast implants, body contouring, laser hair removal, and Restylane®, as well as BOTOX® treatments. We invite you to schedule a consultation with Dr. Wheeler in La Mesa to learn how our plastic surgery procedures can be custom tailored to give you the aesthetically pleasing results you desire..
Our Convenient Location
Our central location offers easy access from anywhere in San Diego County. The Aesthetic Plastic Surgery Center is conveniently located on Grossmont Center Drive just a short drive from Interstate 8 or Fletcher Parkway. Because we value your privacy and comfort, our parking area is adjacent to our La Mesa plastic surgery doctor's office. There is never the bother of a parking garage or parking fees for San Diego patients at the Aesthetic Plastic Surgery Center.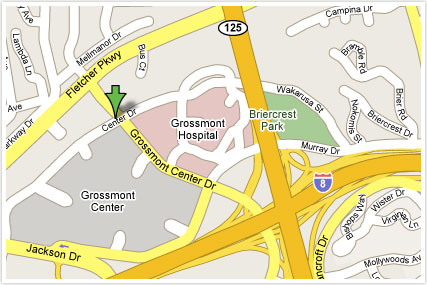 San Diego residents can contact our plastic surgery doctor's office in La Mesa to learn more about our plastic surgery procedures and products and the exceptional service we provide every patient.